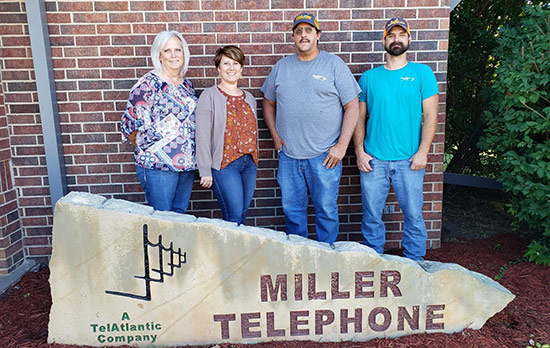 In 1900 W. C. Hill and his brothers organized the Hill Telephone System in Miller. Around the same time, C. V. Williams organized the Farmer's Telephone Exchange. Switchboards were installed and telephone lines were built in all directions, connecting the community of Miller.
In 1920, the Farmer's system sold out to the W. C. Hill family who continued to manage the telephone system until 1930 when they sold to L. G. Isaacs. Mr. Isaacs sold out to R. D. Shoemaker a year or so later and he renamed it the Community Telephone Company. The central office was located upstairs over the T. A. Miller store. Later on Mr. Shoemaker built a new brick building on the South side of Main Street and the equipment was moved to the new building. Mr. Shoemaker convinced Mr. & Mrs. Fred Isaac's to lease the telephone system in 1948. Six years later the Isaac's bought the business and renamed it the Miller Telephone Company. A dial system was installed in 1956, and direct distance dialing was added in 1969. The Isaac's operated the exchange and added on to the new building over the years bringing the Miller Telephone Company up to the latest modern standards. Mr. & Mrs. Robert Prince, and Robert's sister Bobbie Sue purchased the telephone company in 1975 from the Isaac's.
In 1979, telephone lines were buried underground throughout the rural area with most of the city customers remaining aerial. Progress continued in 1989 with the installation of the DMS10 switch. During 1999 customers in the Miller area were introduced to fiber with remotes installed in various locations of the service area for relief of our copper cable. Miller added dialup internet service to offer their customers.
In 2001, TelAtlantic Communications, Inc. acquired the Miller Telephone Company. TelAtlantic Communications, Inc. is headquartered in Alexandria, Virginia. Since its acquisition of the Miller Telephone Company, TelAtlantic has endeavored to ensure that the Miller Telephone Company can provide state of the art telecommunications to its customers.
As of 2017, the Miller Telephone Company provides its telecommunications services to its customers through its fiber to the premises network, offering its customers the fastest and highest quality network currently available.